Dedicated to Protection, Preservation and Education.
Cape Coral Friends of Wildlife is a volunteer organization whose purpose is to preserve and enhance the habitats of protected wildlife species and to educate the community about Cape Coral's wildlife resources.
CAPE CORAL FRIENDS OF WILDLIFE GENERAL MEETING
October 10, 2023
Cape Coral Friends of Wildlife (CCFW) invites you to attend their next general meeting.
Matthew F. Metcalf, M.Sc. from Florida Gulf Coast University will discuss recently published research on the behavior of gopher tortoises in Cape Coral. Radio-transmitters were attached to tortoises to track their movement and behavior over the course of a year. CCFW, a sponsor of the research project, intends to use these results to promote the conservation of gopher tortoises.
Tuesday October 10, 2023
Rotary Park Environmental Center, 5505 Rose Garden Rd., Cape Coral
6:30 PM Meet and Greet 7:00 PM
"Radio Tracking of Gopher Tortoises in Cape Coral", Matthew F. Metcalf, M.Sc. 7:50 PM CCFW General Membership Meeting – All are Welcome!
SEPTEMBER 2023
MEMBER OF THE MONTH
JIM COLLIER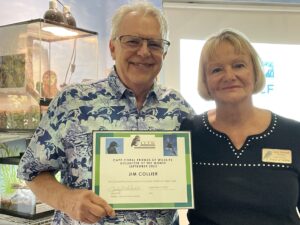 Hurricane Ian devastated the Purple Martin colonies in Cape Coral.  Purple Martins use only human-supplied housing in North America to produce their young.  Since Jim's arrival in Cape Coral almost 20 years ago, he has helped set up many new Purple Martin colonies in Cape Coral.  The canals of Cape Coral prove to be a favorite nesting place for "America's Favorite Bird".
Needless to say, the hurricane winds brought most of the housing units and gourd racks crashing to the ground and into the water.  The damage was extensive and varied - poles bent, ground stakes pulled up, gourds in the water etc.  With the help of CCFW and PMCA (Purple Martin Conservation Assoc.) we were able to order new parts at manufacturers' cost plus shipping.
Then the real work began of re-erecting 25+colonies from the ground up.  Jim was able to get help from some good friends to assist with this daunting task, but it took a great supervisor to figure out all of the supplies and tools needed to put the racks back up.  Keep in mind we were under a time crunch, as the Martins begin returning from their winter home in Brazil in January.  We were able to get everything done in time for the first arriving Purple Martins.
In a poetic gesture from Mother Nature, the first birds in Cape Coral arrived the evening of January 1, flying right over our house! They were saying "thank you" even though they had no idea about the hurricane damage since they were thankfully in Brazil at the time of Ian. It was the earliest return recorded in Cape Coral, and the third sighting in North America for 2023!
Jim wants to thank all of the volunteers that helped with this big job.  We had a record season for Purple Martins in the Cape.  Hundreds of new babies fledged from the re-erected house and gourds, all thanks to Jim and his volunteers.  A well deserved award for him. - Cheryl
RIP Jimmy Buffett
Dec 25, 1946 - Sept 1, 2023
"His smiles, love of nature and music will be sorely missed!"
CLICK FLYER BELOW FOR CCFW FUNDRAISER DETAILS  AT JASON'S DELI IN OCT!
In addition to FACEBOOK, you can now find us on: 
Twitter - @CCFWflorida
Instagram - @ccfriendsofwildlife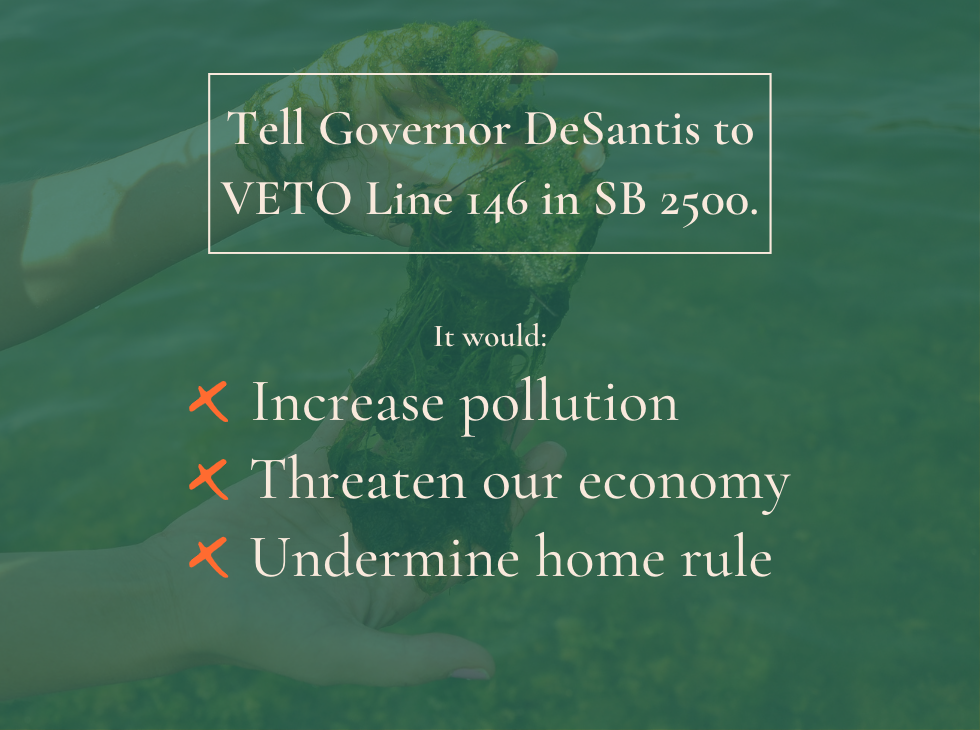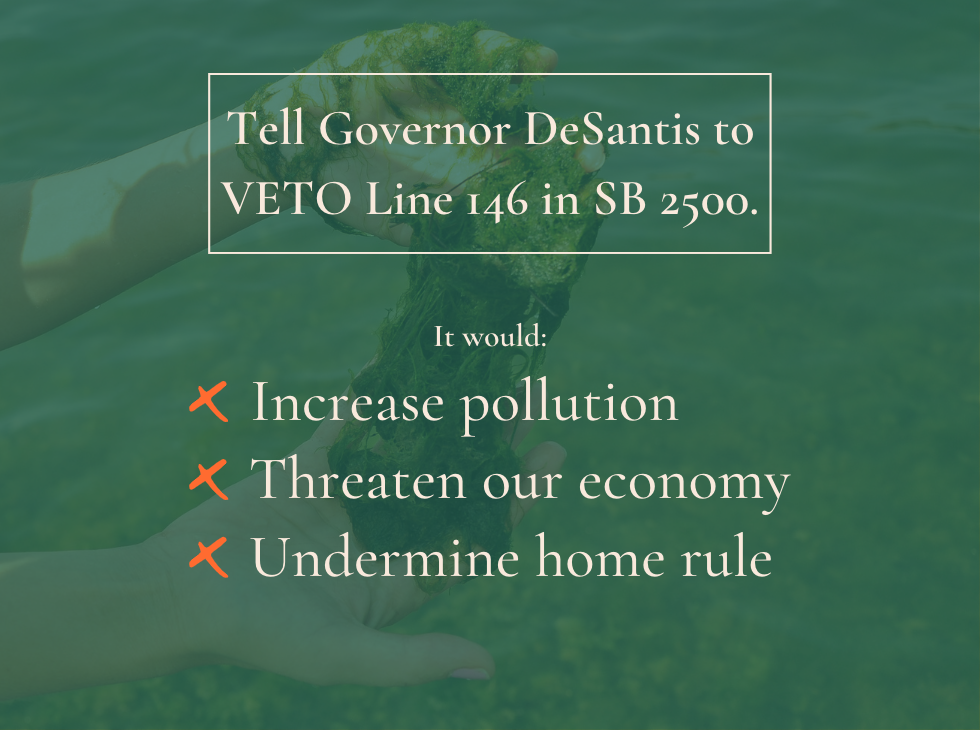 CLICK THIS LINK FOR MORE INFO AND TO SEND MESSAGE TO GOVERNOR
Clean, healthy water is an economic driver for our tourism-based economy and is critical to the ecological viability of our many wild species and places. However, the late inclusion of line 146 to SB 2500 would be detrimental to not only our waterways but to our economy and way of life.
Line 146 would preempt local cities and counties from creating or modifying fertilizer ordinances. Such ordinances are common-sense solutions for many Florida communities during summer as they prevent nutrient pollution and limit the impact on our water.
Furthermore, line 146 undermines home rule and contributes directly to the further impairment of our waterways, so we need your help.
Please tell Governor DeSantis to protect the health and livelihood of Floridians and our water by VETOING line item 146 of SB 2500.
Why We Do What We Do... <3
Photo Credit: Terilyn Downes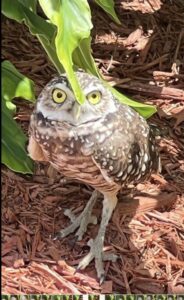 FUTURE MEETINGS 2023
Tuesday, September 12, 2023
Tuesday, October 10, 2023
Tuesday, November 14, 2023
Tuesday, December 12, 2023
Cape Coral Friends of Wildlife Monthly Meeting
Rotary Park Environmental Center, 5505 Rose Garden Rd., Cape Coral, FL  33914
Guest Speaker: TBA
Butterfly House Visitor Saves Tonka the Tortoise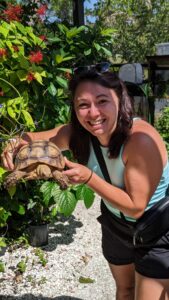 May 1, 2023, in the Butterfly House, Tonka the African Sulcata tortoise (who lives in the Butterfly House) decided to munch on a piece of plastic. Cheryl A. pulled some out of her mouth, but she had a bunch still in there.  I tried to get the remaining plastic, but she had a vice grip on it.
A visitor from Ohio named Dominique offered to help. She grabbed the piece before Tonka could clamp down with her strong beak, and with one quick motion, pulled it out!
She may have saved the animal's life.
The Butterfly House volunteers and Cape Coral Friends of Wildlife, extend a huge thank you to Dominque. Tonka will now have a chance to live a long, long time... life expectancy is 70 years or more! - Thank you! Lori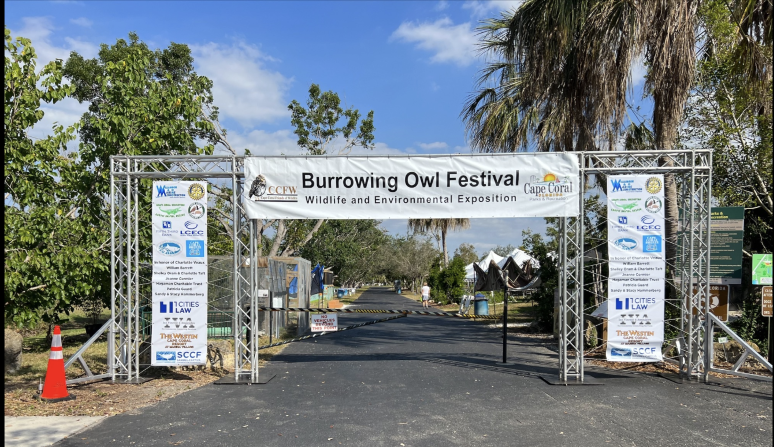 The Board of Directors of Cape Coral Wildlife, Inc. would like to recognize the following major sponsors of the 2023 Burrowing Owl Festival - Wildlife & Environmental Expo. If you are personally acquainted with a sponsor or business, please thank them when you get a chance.

2023 Burrowing Owl Festival – Wildlife & Environmental Exposition

 Wise Old Owl Level - $2,000, and/or endowment of land/lot in Cape Coral

Jeanne Cormier - $2000

Incredible Bank - $2,000

Fledgling Level  $500 - $1999

Williamson & Sons, Inc., Marine Construction  $1,000.00

William Barrett - $1,000

Patricia Guard - $1,000

Hagaman Trust - $1,000

Shelley Oram & Charlotte Taft - $750

Westin Cape Coral Resort at Marina Village $650

7 Cities Law - $600

Breeze Newspapers - $550

Ian Vincent & Associates, Environmental Consulting - $500.00

Coastal & Heartland National Estuary Partnership  (CHNEP)- $500.00

Fifth Third Bank - $500

Hatchling  $350 - $499

Sandy & Stacy Hammerberg - $350

Carl & Charlotte Veaux - $350

Friends of the Festival $150 - $349

Sanibel-Captiva Conservation Foundation - $300

Key West Express - $160

Trebing Tile - $150

Lawrence Kearny Chapter of the DAR - $150

---
"CHARGING" - Nature of Cape Coral" Bus Tour - Cape Coral Wildlife Trust's Gopher Tortoise Preserve
Imagine having the rare opportunity to have this "CLOSE ENCOUNTER" happen to you! Thank you to Charles Wellhausen for sharing this amazing video!
Thank you to Charles Wellhausen for sharing this amazing video! (<-- CLICK ON LINK!)
This big guy suddenly stopped munching on flowers, picked out Charles from a group of eight, and marched right for him, non-stop! Charles did not move a muscle. This "armored soldier" came within inches, said "hello", then turned around, and scurried back into his burrow. These close encounters with nature are rare, and so cherished. Don't miss out! Call (239) 549-4606
Cape Coral Wildlife Trust NEEDS Our Help! Donate Today!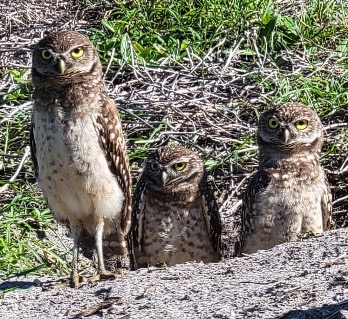 Burrowing Owl Starter Burrow - Learn more...
As Cape Coral grows, there will be less and less empty lots for the Burrowing Owls to call home, and loss of habitat is a primary reason why Burrowing Owl populations decline. Fortunately there is a solution to habitat loss that is working quite well.  Homeowners are being encouraged to put "starter" burrows on their front laws.
To view a video on creating a starter burrow: Click Here
For more information: Click Here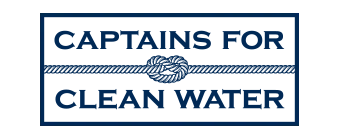 Take Action: seal the deal on the improved Lake Okeechobee Operations Plan
ACTION ALERT! As the LOSOM (Lake Okeechobee System Operating Manual) process is nearing its conclusion, the Army Corps of Engineers has released a draft of the final lake operations manual and requested public feedback.
Thankfully, the draft looks good and represents the most equitable plan. Now, we need you to send an email to the Corps in support of their proposal https://captainsforcleanwater.org/losom-final/
Read more | link

CCFW YouTube Channel
Check out our CCFW YouTube Channel. We have many original and informative short videos with links to news articles.  Click Here for YouTube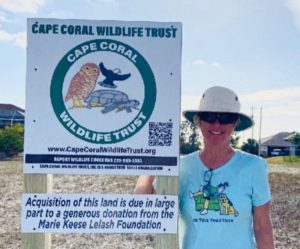 CCFW's sister organization, Cape Coral Wildlife Trust was formed in 2017 to acquire land for habitat preservation, education, and research, of Cape Coral's indigenous wildlife. As of Sept. 1, 2021, CCWT owns 50 lots where gopher tortoises and burrowing owls live and is actively seeking many more lots.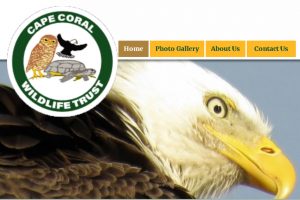 For information about CCWT and how you can help us acquire and preserve land for wildlife, go to:
capecoralwildlifetrust.org
 Here is an important way to help working directly with wildlife. Supplied with City maps, weed wackers, safety equipment, and lots of enthusiasm this group of dedicated volunteers trim burrow with high weeds, install PVC pipes and perches on newly found burrows, repair and clean up existing burrows. They also have obtained GPS coordinates for every known burrow and submitted this information to the City of Cape Coral to be put in the City data base.