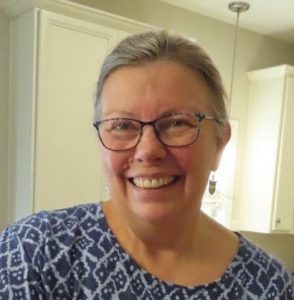 Sue Carver: November Member of the Month
Sue joined CCFW in 2017, and from the very beginning, put her concern and skills to work protecting wildlife. She has been involved with several important efforts.
Sue helps maintain about a dozen burrows in her neighborhood in the NE Cape. She was the official photographer of the 2019 Burrowing Owl Festival. Most recently, she documented the wildlife at Cape Coral's Caravan Canal Rookery, particularly the Florida Endangered "Threatened," little blue heron. Sue checked the refuge twice monthly for over a year, taking field notes, identifying bird species, and capturing the beauty of nature with her camera. Cape Coral Wildlife Trust hopes to someday purchase the area around the canal to protect the 30+ bird species, gopher tortoises, manatees, and other wildlife such as the bald eagle, and wood stork.
Sue moved to Cape Coral from Indiana in 2014. She was a Data Analyst for Weyerhaeuser Company from 1991-2014. Her two granddaughters are her pride and joy. Another baby is on the way…she can't wait for March. Sue enjoys photography, birding, traveling, and quilting. A talented woman who never sits still!
Bernadette Mcnee: October Member of the Month
Bernadette has been a member since 2005 and trained Pascha in 2006 on burrowing owls. She is our person behind the scenes keeping track of all the calls coming in on owls and tortoises and other fauna. These she then distributes to those of us who help with the maintenance. She is always helpful and will reach back to callers to clarify information.
Carol Miller: August Member of the Month
Carol has been a resident of Cape Coral since 2008 and a member since 2009, making this her 12th year with CCFW. In 2011 she got a call from Susan Porreca, President at the time, asking her if she could assist Cheryl at the Butterfly house giving Butterfly tours. Somewhat apprehensive, she studied up, researching many different sources about butterflies and the plants that support them. She has been very successful giving Butterfly House tours as well as Butterfly gardens tours during last year's COVID outbreak. We have a donation jar at the butterfly house and when Carol is giving tours there always seems to be above normal amount of donations. There is a rumor that recently after one of her informative tours a very grateful visitor dropped $50 in the jar! I believe people find her pleasant demeanor and broad knowledge inspiring. Kudos to Carol!
In 2015 Carol, along with other CCFW members, participated in a tagged monarch research study conducted by a university. They gently attach small adhesive tags to the wings of the butterflies they released that bear a telephone number and a unique identification number for that particular monarch. She went to a Cape Coral school with captured Monarchs and demonstrated how to tag the butterflies and release them. During this time Carol was interviewed and an article was written about her and the butterfly house along with the study. Have fun, learn about butterflies at Rotary Park
Click Here.  Thousands were tagged and many found. See photo of one found 60 days after released.
It would be safe to say she racks up an average of 4 hours a week all year long volunteering to support our educational mission. During the later part of the year and into January she is also working in the Merchandise Committee assisting with new inventories of T-shirts and merchandise to sell in January and at the Burrowing Owl Festival. Of course, you will find her on that day giving tours all day long.
She was also an At-Large member of the Board of Directors for 2 years assisting with publicity. Here is a bit of trivia... Carol was in Arizona on vacation back in 2017 and at Saguaro National Park in the gift store she noticed they were selling Burrowing Owl Pins. She found out where they ordered them and that's how we started selling them at Rotary Park.
You will find Carol every Saturday from 10:00 to 12:00 at the Butterfly house educating the public about our native butterflies and plants. Thanks Carol for your long term commitment to CCFW.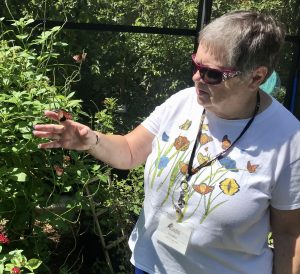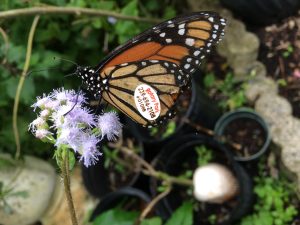 ---
Kristi Gabriel: July Member of the Month  Kristi has been a member for 2 ½ years and a Cape Coral Resident for 3 years. She previously lived in Denver, Colorado. She started her association with CCFW by doing owl burrow maintenance  then switched to monitoring CCWT gopher tortoise properties and now has transitioned to working with Greg Borchardt for the last 2 years doing owl burrow maintenance.
She works full time but manages to put in 6-8 hours a week visiting between 100 and 150 burrows a month in north Cape Coral in the Coral Oaks area. Greg provides her with maps of burrows to visit and along with her friend Dawn Peterson (also a member), they check to make sure each burrow is active and open. They verify that the PVC stakes are in place, the perch is in good condition or replace it with a new one. When available she posts the FWC signs. She will be learning how to use GPS to communicate burrow locations to the city.
She indicated that she took great pride and accomplishment in cleaning up a CCWT tortoise property to where it is now manageable for periodic maintenance.
Kristi indicated that she has lived in many parts of the country, and this is the first time she has become involved with wildlife conservation. Her prior volunteer efforts involved making quilts for children and veterans.
We are recognizing Kristi for her continuous efforts over the past 2 ½ years as burrow maintenance is a core CCFW program and directly affects the owl population. Thank you, Kristi!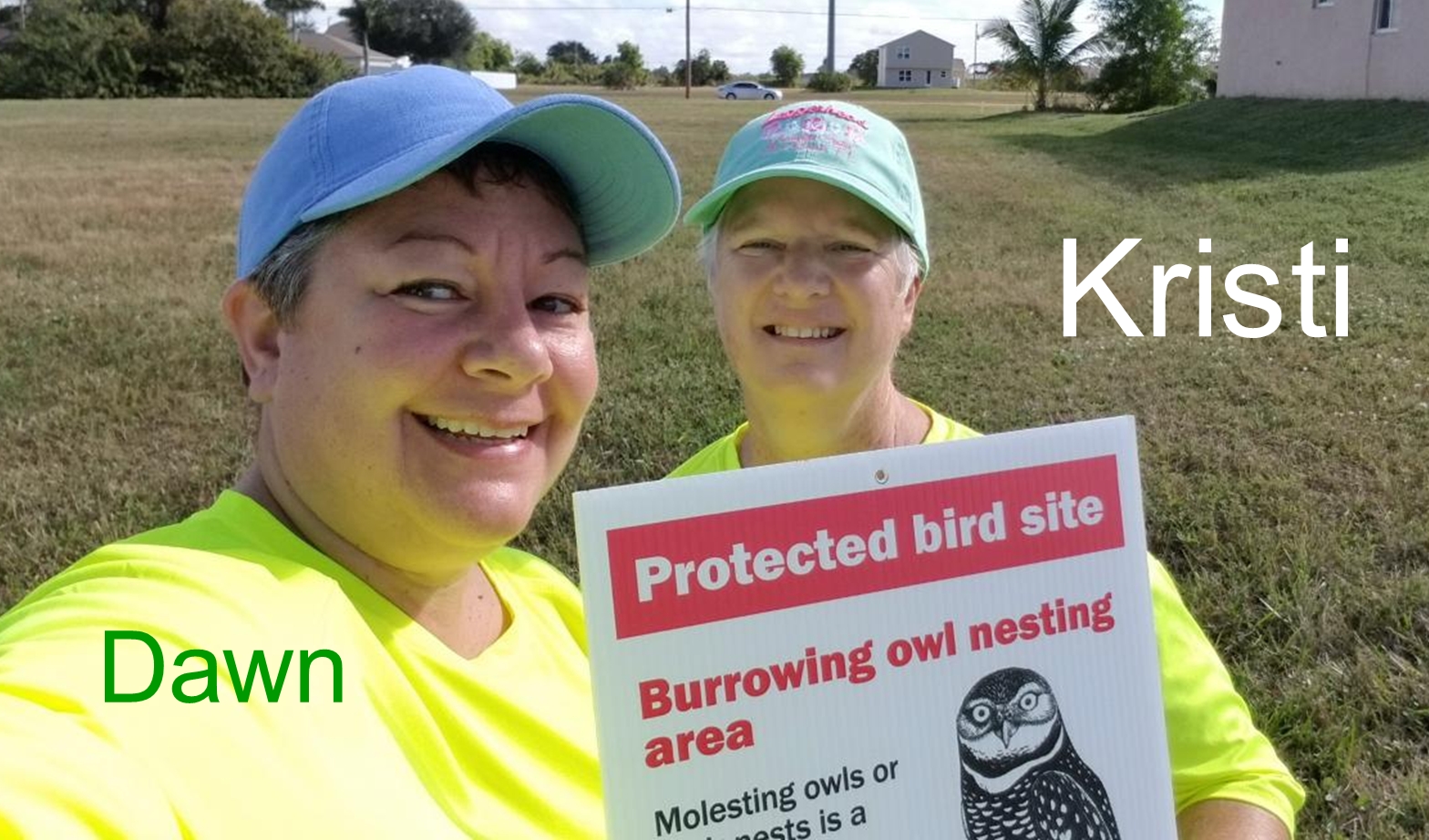 If you have been a CCFW member for several years or visited Rotary Park, I am sure you all have met Deb Spangler. What you may not know about her, are all her contributions and efforts that make a visit to Rotary Park wonderful.
She has been an official Parks and Recreation volunteer for 6 years and a CCFW member for 5 years. She volunteers there 4 days week giving more than 20 hours of her time each week. As a CCFW member she gives Butterfly house tours, maintains the butterfly gardens as well as the butterfly house. She has created 4 additional butterfly gardens around the park building for all to enjoy.
Deb is very knowledgeable about native plants, our red footed tortoises, and of course all the butterflies. She has a wonderful manner when giving tours and instructing kids about our red footed tortoises and butterflies.
She was instrumental in resurrecting the Koi Pond, which is a little-known gem that delights visitors to the park.
During the dry season Deb lugs around the long garden hoses to make sure all the plants are watered that nurish the butterflies and other park critters. She puts out bird seed and food for the local squirrels.
On Tuesdays she works with the Master Gardeners and hones her knowledge about native plants which she willing shares.